It is so rewarding to hear great stories like this one.
-Cheryl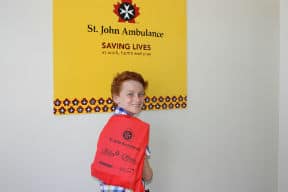 St. John Ambulance's mission is to improve the health, safety and quality of life for Alberta residents by providing training and community services. The funds that the nonprofit organization receives from teaching first aid and CPR courses go right back into numerous community service programs. One such program is the St. John Babysitting Basics Course that teaches children, age 11 and older, how to properly care for infants and children as well as how to provide first aid when necessary. Lessons include safety awareness, injury prevention, how to handle emergencies, first aid and CPR training, and more. A subset of this program, the summer Babysitter Advantage©, offers the same course at a discount to those who require it.
"The families we reach with this initiative are very appreciative," said Patty Wright, business development administrative and research associate for St. John. "We empower these kids and give them confidence to take care of themselves and the children they watch." The classes are offered at all seven Alberta St. John locations. St. John also partners with local schools and other community organizations to extend course offerings to offsite locations.  By mid-summer, St. John Ambulance had reached more than 150 students with its Babysitter course.
St. John Ambulance was a recipient of a one by one® from promotional products retailer 4imprint®. It used the grant to purchase logo'd totes that were filled with chalk, crayons and other items to make a babysitting kit for the new babysitters to take with them to the job. "We were so thrilled. Every bit helps and goes right to the kids," Wright said. "We're very grateful for 4imprint's contribution."
You can read more recipient stories on the one by one website. To apply for a one by one grant, visit onebyone.4imprint.com and click the Application tab.