My friends and teammates might try to tell you I have the ability to spot a promotional product from a mile away.  (It's a career hazard.)  So, it probably wouldn't surprise them that Kenneth Cole's Connected Fragrance practically shouted my name the first time I saw it.
I think I was drawn to it because it shares an uncanny resemblance to 4imprint's Lil' Shorty Aluminum Sport Bottle – 17 oz!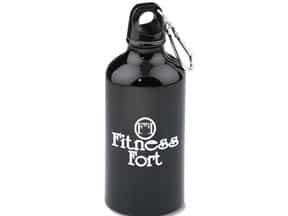 Of course, I immediately began to wonder whether someone at Kenneth Cole is channeling promotional products for inspiration? Has Kenneth Cole now made aluminum high-fashion?
So, what's the inspiration for the packaging?
Things like going green, environmentalism, outdoorsy-ness and healthy habits like drinking water are trendy among consumers and brands alike. Perhaps these things are the true inspiration for this unique package design.
And, it's also inspiration for thinking of new uses for classic promotional products.  In what other ways could you use a sports bottle to promote your organization?
-Suzanne