Have you thought about turning the way you buy your products or develop your services into part of your organization's story?
The Van does just that.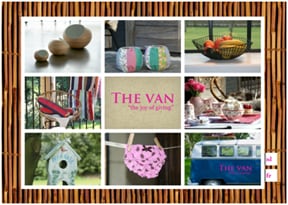 The Van is an online gift shop started by two women who simply wanted to spread the joy of giving and receiving gifts.
In a nutshell, these women—Valerie and Ann as they are known on the site—travel 'round in an old van collecting gifts. The result is an online shop filled with one-of-a-kind gifts, like handmade napkins, funky lamps and adorable cowboy pajamas for kids.
While their products are really cool, what got me was the idea behind the shop and how they've leveraged this idea to build a brand. They've literally taken "how they found it" and turned that into a differentiator.
-Suzanne