Here's another sneak preview for you…
This is a gift that will get people talking.  It's called the Snuggle Me.  It's a wearable blanket.
Yes, clever readers, this product is somewhat like the infomercials you've been unable to tear yourself away from.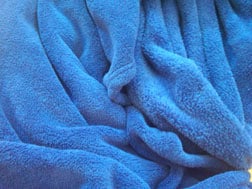 But, the fabric on the Snuggle Me isn't your basic fleece – it's a soft, plush chenille.  It feels like a teddy bear, which makes it perfect for curling up under with a good book or while watching your favorite TV program.
The Snuggle Me also has a pocket – perfect for the remote control or snacks.  We can embroider your logo on the Snuggle Me.  And, you'll be able to order as few as six.
And, though it's not yet SEEN ON 4IMPRINT TV, it's likely to be this year's most popular gift – though not everyone will have the courage to admit wanting one!  In fact, it has already been popular around our office.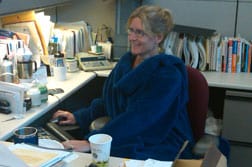 When I got the Snuggle Me product sample, it promptly moved next door – into Mary's office.  (She's often chilly, so we've seen her wearing the Snuggle Me on more than one occasion.)
When we started taking pre-holiday orders from the Snuggle Me from employees, it seemed everyone wanted one.
If you're looking to give your customers something they'll use all the time, stay tuned.  The Snuggle Me arrives later this fall.
-Suzanne