When the winter weather outside is frightful, we can't help but dream of warmer days. (In Oshkosh, it gets that way in January!)
If beach-themed promotions are on your mind, too, there's a really cool new alternative to the usual color-striped or palm tree-printed beach towel. The Surf Board Beach Towel not only looks like an actual surfboard, but is shaped like one, too. When lying on the beach, would you be able to tell the difference from afar?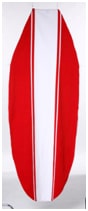 This would make a great prize at a beach-themed kick-off for a new sales promotion – or as rewards for team members who exceed their goals.  Better yet, use this as a premiere 'thank you' for your most loyal customers.
It's a promotional product  that is creative, fun and useful!
-Suzanne
PS – This is just one of the products we'll feature in our Spring Gift Catalog.  Let me know if you'd like a copy.