You never know how far a little act of kindness will reach. Here's one example of a small act of kindness that went a long way.
-Cheryl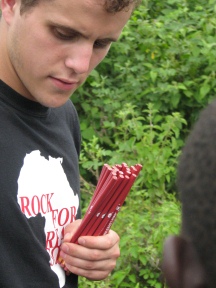 Giving the 'Write' Stuff
Dubbed Real Missions, Real Life Church's 30-person mission team takes at least two trips per year to assist individuals in need. From repairing wells in overseas nations, to disaster relief in the United States, the group consistently finds ways to bring education and hope to those they serve.
Real Missions' trip in the fall of 2009 to Bamboi, Ghana, brought these intangible elements, plus a few tangible gifts as well. The Church's mission team had plenty of offerings in tow for the remote Bamboi villagers, including soccer balls, medical equipment, water filters, books and educational supplies. However, the most coveted gift delivered was a bit unexpected: Wooden pencils, imprinted with the tribe's name.
"Handing out the pencils felt like we were at a giant party," remembers Pastor Murray, president of Real Missions. "Kids were celebrating – it was like a holiday! I had no idea they would be that big of a hit. They spread from hut to hut, village to village, faster than we could give them out."
The pencils were donated to Real Missions via 4imprint's one by one® charitable giving program. Their impact was monumental due to the tribe's heavy emphasis on receiving a quality education. Since children must provide their own school supplies, pencils are a necessary tool for success.
"To get something printed with their identity on it was huge for them, too. Children would not let go of those pencils," shares Pastor Murray. "When our group saw how easily we could meet the needs of these villagers, we realized how even small gifts can contribute to creating a better world."
For more information on Real Missions and its trip to Ghana, visit: https://ghana09.blogspot.com/.
You can read more recipient stories on the one by one website. To apply for a one by one grant, visit onebyone.4imprint.com and click the Application tab.