Well, I still haven't managed to make much of a dent getting the floor covered, but I still have tomorrow!
Here are a couple of thoughts that come to mind as I walk the show. First, fun is always 'in style'! Games (poker anyone?), toys (for people of all ages), and items people can use to relax are here to stay. Building a promotion around having fun is a great way to connect with someone. Face it, we all feel like we're running 24/7 these days, so when somebody gives you something that brings a smile or let's you go out and play, you remember it!
I've seen kites, coolers of all shapes and sizes, picnic kits, MP3 players and more. Here's a unique item that caught my eye. You know those tents or kites that quickly fold up into a circular carrying case? The ones that are essentially a flexible frame that has cloth or nylon stretched over them? This item is a beach mat that folds down so you can carry it in a small, circular pouch (imprinted of course). It's big enough to lie on and comes complete with an integrated pillow!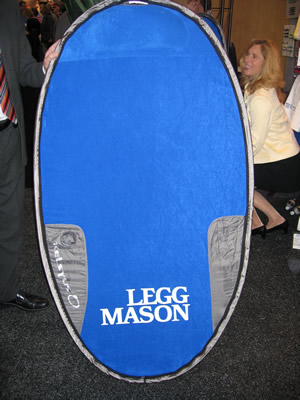 Personal care items seem to be popular. Giving someone something they can use for themselves shows that you're interested in them personally. These items are also generally quite practical, which many people appreciate. Things like first aid kits, lip balm and hand sanitizers are just a few. Here's a new spin on that theme: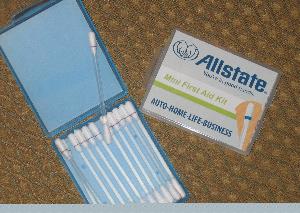 Probably hard to tell from this picture, but the case below can be imprinted with your logo and contains a handful of cotton swabs. The end of each swab 'snaps' with a quick bend and releases sanitizer that you can use on any hard surface (that phone in your hotel room really clean?). Cool idea!
Digital printing is everywhere. Whether it's your digital camera or the printing you've had done recently at the local print shop, it's hard not to see the impact digital printing is having on business. Promotional products are no different in that regard. Below is a magnet from Bic ® that's printed in full color. Best part is that the price to do full color printing on a magnet is often less than what it cost to print one and two color stuff just a couple of years ago!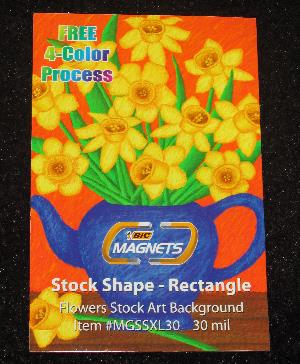 Well, that's it from the show for today. I'll post some more thoughts for you tomorrow. Thanks for reading!
-klt