Brands often pay big dollars to place their products in blockbuster films.
You've no doubt noticed a movie's lead actress using a laptop with a logo prominently displayed. Or, a lead actor driving a car whose hood ornament appears in almost every shot.
While traveling recently, I stopped in at a coffee shop and found the local version of product placement.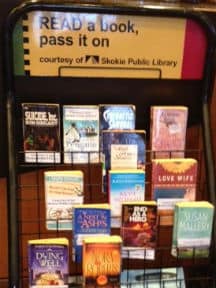 A library donated a stack of books to the coffee shop. (The books had been taken out of circulation and would have otherwise been sold or recycled.) Coffee shop customers were encouraged to take a book to read and pass it on. The book rack contained signs explaining the program and flyers promoting upcoming library programs. It was a great collaboration!
That got me thinking about how other organizations could do this, too.
For example, book shops could take books that got tattered or faded while on the shelves, add a name plate inside the book explaining the program and place them in a coffee shop or restaurant. (For a little something extra, add a bookmark containing a special offer.)
Other organizations could replicate this idea, using other promotional products. For example, an optometrist or ophthalmologist could put their messages in front of Baby Boomers and Seniors by offering complimentary Light Up Credit Card Magnifiers to restaurants for diners to use when reading menus in low light.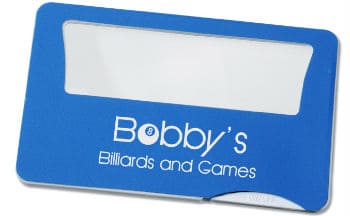 That's a win for the restaurant, the diner and the optometrist or ophthalmologist.
Construction companies, architects, insurance agents, real estate agents or other small businesses targeting families could do something similar, providing restaurants with paper placemats with line drawings of homes and buildings and the logo'd Crayon 4-Pack children can use to color while families wait for their food.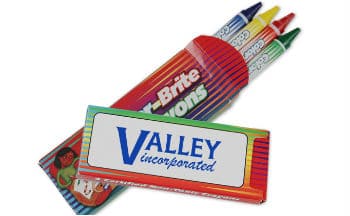 Or, they could make these promotional products available in doctors' and dentists' office waiting rooms.
To make a promotion like this successful, think of an organization that attracts customers like yours. Offer the leader a product that will enhance their customers' experience while promoting your business.
With that type of collaboration, who could say no?
-Suzanne