When first looking at selling these little cardboard sleeves, we thought they would appeal to small, independent coffee shops. They have, in fact, turned into some pretty powerful marketing machines for all sorts of organizations.
If you think this wouldn't be for you, think again.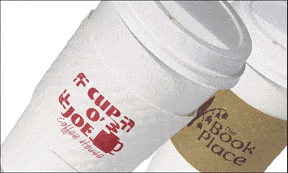 Promotional coffee sleeves make great event advertisers and discount coupons for use in your local community. If you don't have an obvious way to distribute coffee, find a local café owner who would be interested in distributing for you.
A quick flick though some recent orders gives some interesting ideas for ways to use them:
Advertiser for a film festival
Dentists/orthodontic's (with spins on white teeth/drinking coffee!)
Discount coupon for a chiropractor
Church services
New productions at a local theatre
Advertising a health fair at a nearby school
New apartment opening/open house
Discount voucher for new spa services
Advertiser for bank and financial services
Summer event program details for arts festival
Advertising job fairs at colleges and universities
…..oh and, of course, some coffee houses advertising new roasts and discounts of future purchases.
Has your organization found a creative way to use promotional products like Java Jackets?  I'd love to hear about it.
-Suzanne