The giant rubber duck that's floating in Pittsburgh has grabbed national headlines. It's not the only organization capitalizing on the popularity of the bathtub toy.
In Chicago, the Windy City Rubber Ducky Derby raises funds for Special Olympics Illinois by selling racing rubber ducks to sponsors. (Watch the video.) Thousands of spectators watch as 45,000 yellow rubber ducks splash into the Chicago River. Ducks that reach the finish line first win prizes for their sponsor. This is a brilliant way to bring people together for a good cause and have a little competitive fun in the process.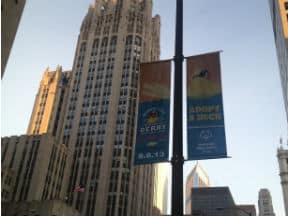 Organizations of all types may be able to take inspiration from these animal-themed promotions while creating events of a more manageable size.  Here are a few ideas:
Imagine a flock of logo-emblazoned rubber ducks floating in a fountain or pool and greeting visitors to a special event or open house. The ducks could serve as a fun reminder of the event, long after it is over.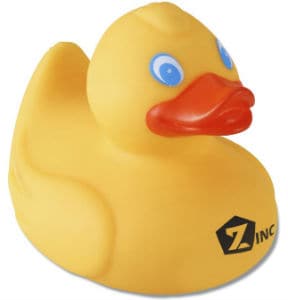 An organization launching a new health or wellness program could distribute a Paws and Claws Lunch bag. This bright reusable lunch tote is sure to make people smile.  The promotion would work equally well with elephant, kitten, puppy, owl or penguin bags.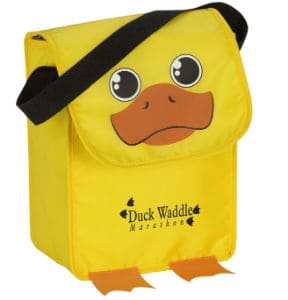 Or, bring an eye-catching promotion to an event or tradeshow. Turn a giveaway into a game by attaching the names of prizes to the bottom of some animal-themed key chains.  Display the promotional keychains en masse on a table. Visitors who provide their contact information or complete a task can take home a keychain. When they turn over the keychains, some lucky winners will find a winning number attached.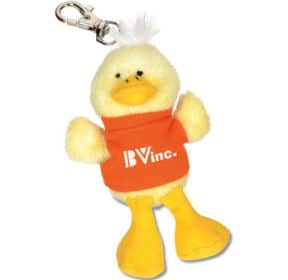 If you're not a fan of ducks, you can choose eagles, cougars, cows, cats or many other animal styles. No matter which you choose, these friendly promotional products are sure to turn heads.
-Suzanne
Suggested tags: