A big hello and welcome to the 4imprint Merchandising Blog! I'm Moriah, 4imprint's web merchandiser, and I'm thrilled to be here to share ideas, new products and noteworthy news in the ad specialty industry!
For my blogging debut, I wanted to highlight a topic that's near and dear to my heart, as you can see from my latest Halloween costume: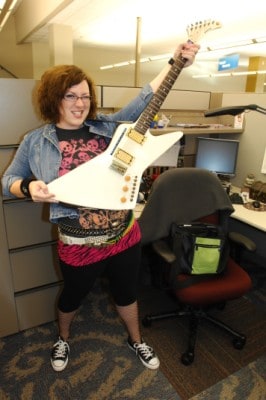 Rock, Roll and Everything In Between!
It's a perfect tie-in with an all-new item we just released this week: promotional guitar picks!
You don't need to be a rock star to promote with custom guitar picks, but you just might become one with giveaways this unique!
What concert goer or music fan doesn't get a rush after catching a drumstick or pick thrown from the stage by a favorite musician? Capture that same intensity with promotional guitar picks!
Use this low-cost, high-impact giveaway to promote outdoor festivals or community events that feature live music. They're also memorable promotional products for concert promotion, band merch, open mic nights, music shops, music teachers and radio stations!
Custom guitar picks are available in a handful of rockin' colors at an affordable price that won't have you singing the blues!
Now all we're missing is the pyrotechnics….