I knew this show was big, but I'd forgotten just how big.
I've covered only 5 of what appear to be 2.6 million aisles –  so it's safe to say that the number of broad trends I can share is limited at this point, as is the number of truly new products I've seen. However, there are a few things that struck me:
How you present a promotional product to a client or associate has always been important. Packaging and presentation can make nearly any giveaway or promotion memorable. Think about it – when you give someone a gift, you wrap it. That extra effort makes the moment memorable and special. There's that element of suspense and surprise that we all love. It's very powerful!
That's not to say I saw loads of promotional gift wrap (although we can get that for you), but there did seem to be more displays featuring packaging and more items that are presented in some sort of case or package. Here are a couple of examples (apologize for the photography – it's just me and my Digital Elph camera!):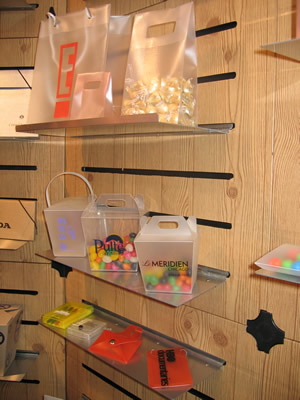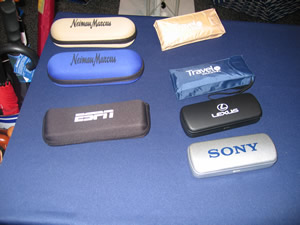 The cases above actually hold full-size umbrellas, which are also imprinted with your logo. Who wouldn't appreciate having this in a glove box or briefcase? The case gives the item a real boost in perceived value.
The other picture is a display featuring just a few of many bags and the like that you can use to create a real 'package' for a giveaway or thank you gift. By putting another item or two into a nice bag or folder, you can really make an impression. These items have the definite feel of something you'd see at retail.
Speaking of retail, that's a trend that's pretty clear already. It used to be quite some time – months or longer – before trends you might see in retail would appear in a B2B setting. That time is collapsing before our eyes. Like the bags in the picture, just about any style or trend you see at retail is very quickly adapted into the B2B sector. The picture below gives you a feel for this in a category that's a pretty obvious place for this trend to appear – apparel: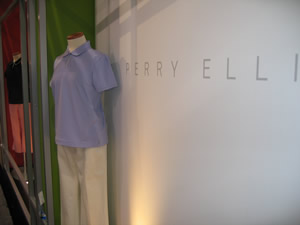 This picture also emphasizes something that's been going on for awhile, but gets stronger every year – items for women. Not that long ago when a company outfitted the team with sport shirts, everybody got the men's version (I can hear women everywhere saying "YIKES"!). The same thing can be said for a variety of items like bags and attaches. Much of the approach was "one size fits all". This has changed (thank goodness) so you can outfit everybody in something that fits each person (physically and mentally). They'll still share the corporate look, but will also feel great in what they wear or carry. And when they look and feel sharp, they send a powerful message to the people they interact with every day.
Stay tuned. More from the show as it happens…
-klt