Working with charities like this is one of the things I love about my job.
-Cheryl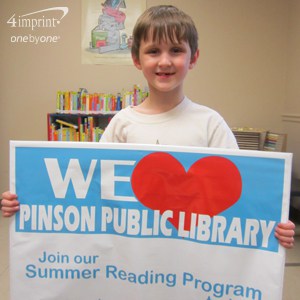 Pinson, Ala., has experienced a lot of "firsts," in recent history. Established more than 200 years ago, Pinson broke away from its county roots in 2004 to become its very own incorporated city. Since then, it has fostered its first city department, first full-time city employee and first library—Pinson Public Library. Now celebrating its fifth year, Pinson Public Library is experiencing continued growth. Perhaps one reason the library is so loved is due to its full-time resident cat, Socrates (you can call him Socks for short). Most days he can be found slumbering atop his favorite chair in the computer lab. Also quite popular among Pinson residents is the library's vast array of summer reading programs that span all ages. In 2016, the library's summer programs garnered participation from 952 of Pinson's 7,200 residents—that's 200 more than the year prior.
Despite its success, Pinson Public Library still struggles to let residents know they exist. The nonprofit organization read about promotional product retailer 4imprint's® one by one® program, applied and was awarded. Pinson Public Library used the grant to purchase yard signs to promote the library and its summer reading programs. "We were so excited to be chosen for this grant as the signs were not in the budget," said director April Wallace. "We really think the signs helped increase participation."
Read more one by one recipient stories on Cheryl's blog. To apply for a one by one grant, visit our website at onebyone.4imprint.com and click the Application tab.