People love to put photos and announcements on the refrigerator. But now that non-magnetic fridges are more popular, you have to be a bit more creative. Here's where our Removable Picture Frame Decal can be helpful.
These removable photo frames use repositionable glue, allowing you to move the frame anywhere, anytime, over and over again. Unlike magnetic frames, which require a metal surface, the repositionable photo frames will stick to any surface. Your fridge, file cabinets, windows or white boards can all hold photo frames, whether they are metal, wood or glass.
Frames are available in a 2×3 snapshot or 4×6 standard photo sizes. They're great to give to employees, volunteers or donors as a thank you. Include a photo and you'll make your gift even more meaningful.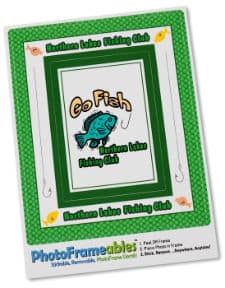 The frames are available in multiple colors and a woodgrain style with walnut, ash, or maple shades.
Best of all, these promotional products are affordably priced, making them a great giveaway. For as little as 19 cents each, you can give people a place to hold cherished pictures, whilst promoting  your corporate brand in a simple yet memorable way.
-Suzanne