One of the first rules of marketing has always been location, location, location.
That usually meant finding a great location for a storefront. But, in the 21st century, companies are putting a new spin on the value of location, by finding ways to connect their customers to the places their food comes from, the shops where their products were made or the people who had a role in making them.
For example:
• Domino's Pizza rolled out advertisements that featured an actual farm where the tomatoes for their sauce are grown. The TV ad shows them bringing focus group participants – who believed they were in a focus group room – to a farm to get a first-hand look.
• Some chip makers now imprint the sides of chip bags with details about where the potatoes came from while orange juice brands tout the origins of their oranges in television commercials.
• Before shipping, the employees of one of our USB suppliers sign the cartons they've packed before sending them on their way.
• Festival Foods, our local supermarket, uses bags that are hand-stamped with a note that says "Made with Pride By" and what looks like the assembler's name.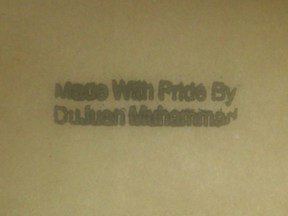 Connecting the product to a place or a person is a trend I'm seeing more and more. Where else are you seeing this?
-Suzanne