Here's a story of one of the charitable organizations I had the privilege of working with.  
-Cheryl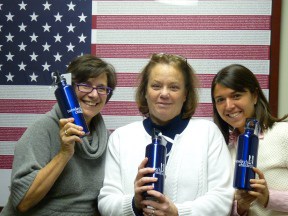 A Place to Turn for Help, to Cope
Most U.S. Americans can remember where they were the moment disaster hit on Sept. 11, 2001 in New York, Washington, D.C., and Virginia. Many children who lost loved ones that morning continue remembering every day. That's when Tuesday's Children can help.
Tuesday's Children supports families and children who lost parents or other loved ones to the 9/11 tragedies by providing mentoring services, family programming, volunteer opportunities and other life-skill learning workshops. With a variety of resources to serve the entire family unit, Tuesday's Children hopes to foster a positive growth environment that allows children and their loved ones to cope together and work toward recovery.
"Each family might have different needs and be in different stages of grieving," explains Sara Wingerath, director of 9/11 family programming. "Adults and children grieve differently, too. Children grieve at major milestones in life, so a lot of our kids are re-experiencing that tragic day and have lots of questions and anxiety. We help support them into their adult years."
One of Tuesday's Children's most successful services is its mentoring program, currently at full capacity with 55 active mentor-child matches. The program has served more than 150 children since the organization's inception, proudly pairing children in need with a responsible and consistent role model.
"We stand back and let the mentors do their work and champion the cause. These kids really rely on their adult match, and our mentors become change-agents in their child's life," shares Wingerath.
Although more than 400 nonprofit organizations were founded immediately after 9/11 to assist victims of the tragedy, only a handful remain active today. Tuesday's Children is one of the few, which Wingerath credits to its support of families for as long as they're in need. That's not to say times haven't been tough though, especially when a struggling economy takes its toll.
One way the organization is able to battle tightened funding and still provide value is by working with other organization programs, including 4imprint's one by one™ charitable giving program. In 2009, Tuesday's Children awarded all mentors and participants in its New York City Marathon team with logo'd water bottles, as a token of appreciation for their service and efforts.
"We have to be really creative in these times to continue performing at the same level, and we rely on the support from organizations like 4imprint," says Wingerath. "The water bottles were a huge hit and a great way to say thanks to all our mentors and volunteers."
For more information on Tuesday's Children, visit https://www.TuesdaysChildren.org/.
You can read more recipient stories on the one by one website. To apply for a one by one grant, visit onebyone.4imprint.com and click the Application tab.