one by one® story: Autism Canada
Imagine being unable to communicate your feelings. Or being highly sensitive to outside noise and other factors you couldn't control. For many on the autism spectrum, that's the reality they live every day. But with Autism Canada providing support, comforting gifts and other resources, those who live with autism are not alone.
Dedicated support that keeps giving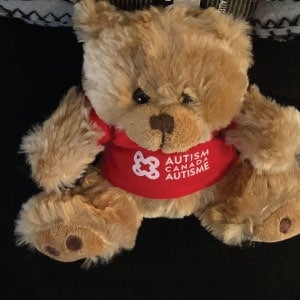 The force behind Autism Canada is a small but mighty team of six passionate people. The team's goal is twofold:
Provide support and resources for people on the autism spectrum and their families.
Advocate for those with autism spectrum disorder (ASD).
Autism Canada does this through multiple programs. One is a Facebook® group for adults who have autism, where they can meet other adults who understand the struggles of day-to-day life. Another program advocates through a family support representative. This dedicated rep is on call, providing support for people who just received a diagnosis as well as those struggling with mental and physical health due to autism. Autism Canada also holds a free online conference every year. The Au-Some Conference features presentations by people on the spectrum. The conference draws a crowd—more than 2,000 people signed up last year to hear inspiring stories. Among last year's presenters: a young race car driver and a nonspeaking man who uses a letterboard to communicate.
Comfort and relief in emotionally charged situations
Perhaps one of Autism Canada's most important initiatives involves training first responders. SARA: Search and Rescue for Autism provides first responders with training and resources to help them understand how to search for and find people on the spectrum who have become lost due to wandering or bolting from a stressful situation. Autism Canada provides first responders with a "comfort kit," filled with items that provide sensory support during difficult situations.
That's where a 4imprint one by one grant helped. Using the grant, Autism Canada filled multiple kits with comforting gifts, like squeeze balls, stuffed bears, fidget spinners and fidget cubes.
"As a nonprofit, we don't have a lot of resources that are endlessly available," said Executive Director Barbara Patten. "To be able to have access to this grant was incredibly helpful because it allowed us to provide that much more support to the autistic community. We are very grateful for the grant and really appreciate that 4imprint takes the initiative to help nonprofits like ours."
A note from Cheryl
We're honoured to have provided Autism Canada with comforting gifts that not only help people on the autism spectrum but also the people who help them. For more information on the 4imprint grant program, visit onebyone.4imprint.ca.