Well, I received our first report back from Suzanne at the Promotional Products Association International (PPAI) show in Las Vegas.  It sounds like the trip from Wisconsin was pleasantly uneventful.  Read below to hear what is planned for the Merchandisers first day at the show…
Sara
Â
We arrived in Vegas successfully last night……and more surprising our luggage arrived as well!  So we're all organized to get the best out of the trade show, one of the biggest in the US that we attend.
Although we work all year to bring you new items the promotional products industry typically releases the most of its new products in January of each year. It's the perfect time for us to catch up with existing vendors and look out for great new products for you all.
So first off this morning for me was a meeting to catch up with one of our key bag vendors. Bags remain one of our top 3 categories so it's critical for us to make sure we have new styles with all the features and at the price points that you, our customers, look for. We also like to keep our eyes out for some new styles that perhaps you haven't thought of yet…
To start with, we just ran though and confirmed those bags we're looking to launch in the first few months of the year and here's a couple below. Â They are different in style but have two points in common….handy pockets and should both sell at around $5.00
Â
Take a look at this first one. We loved the two tone colored straps which just adds a little bit of fun and styling to the normally plain black and boring handle straps. If you look a little closer ……apologies for the poor photography skills…..you'll see some really handy small pockets to the side and front to stick pens, cell phones, hotel room keys and all those other bits and pieces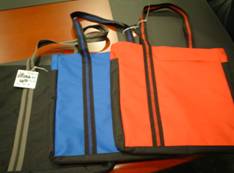 Â
Same goes for this bag as well. It has the more traditional shape but has a 'track' style section to the corner. Its probably tricky to see at the moment but those stripes contain about 4 different sized pockets to perfectly hold documents and business cards, there are a couple of pen loops and a hook to attach your trade show badge as well….this is a big plus for me…I hate wearing them around my neck..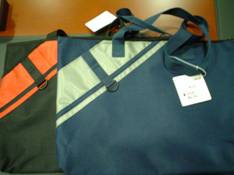 Also on the agenda were some discussions about new products that are still in development for the year ahead and new colors we're planning to introduce on some old favorites….you'll have to wait for more on that one….oh, and I can't believe we started talking about holiday gifts for later in the year!
Well that was a good start for the week. The main part of the show starts on Wednesday but this afternoon there is a preview of some of the new products which I'm going to take a walk around and take some notes….will report back in the morning
Suzanne