Happy New Year! I hope you enjoyed your holiday with family and friends and, hopefully, a bit of time away from work.  In the spirit of the New Year, I want to give you a sneak peek at some new products that will help you wake up your writing.
Blow customers away with a bubble pen or highlighter. These entertaining pens are sure to be a crowd pleaser, breaking up the writing monotony with the promise of a little workplace fun. Not only are they eye-catching, but also offer the surprise of a built-in bubble blower.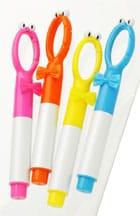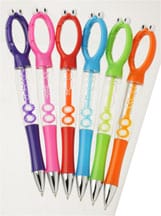 For a job well done, consider giving your clients or coworkers one of our newest Goofy Handz Pens, topped with an oversized thumbs-up or peace-sign! Certain to incite a few laughs, these pens sit nicely on desks, making sure your logo isn't tucked into a drawer or desktop pen holder.


From the office to the trade show booth, these pens will definitely stand out!  Where can you see your company using these cool promotional products?
-Suzanne