New wrinkles.
Not those nifty ones that pop up around a great smile or the ones that (I think) show you've got some character. I'm talking about the process of taking something that's been around awhile (and in fact is popular) and adding something or changing it in some way to give it new life.
Here's a great example.
Awards (things like plaques or obelisks and the like) have been around forever. There are thousands of shapes and sizes, from the simple rectangular wood plaque, to custom-lasered crystal – and everything in between. While I don't mean to imply that these aren't (in many cases) beautiful, and I'm totally in favor of recognizing achievement, but I haven't seen too many items in this category that represent something fresh – until this morning.
Below is a snapshot of a new line of awards (in all sorts of sizes with different art for different types of awards) that feature the artwork of Pop Art Master Burton Morris (his work is incredible, if you haven't heard of him you'll recognize his work if you think about the coffee shop on Friends). I thought the look on these awards was eye-popping – something people would talk about if they saw it in your office.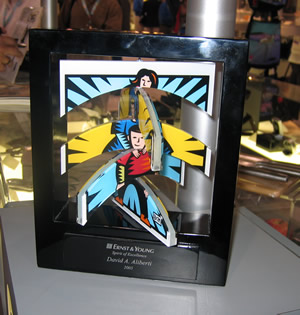 However, not every new wrinkle has to be that dramatic to have the same impact. I suspect this has been done before, but it's the first time I've seen it. It's a portfolio, but legal size. If you're in the legal or real estate profession or if you're like me and just like bigger pieces of paper to think on, this is a new take on a tried-and-true product that might be just the ticket. Again, nothing flashy, just a good idea executed well.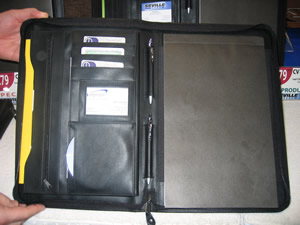 Using promotional products as part of your marketing mix is all about creating an impression. Trying to match the item to the objective and having that item really create the impression you're looking for is key. Whether your team is using the item or you're giving it away, selecting items that pay attention to the 'little things' says something (that I think is good) about your organization. The item below does this nicely and follows the 'new wrinkles' theme.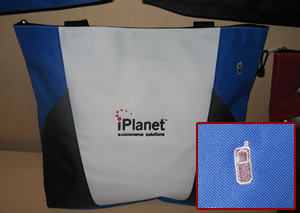 First, the bag itself is beautiful. Look closely and you'll find details that make a good bag great. The pockets on the front hold a water bottle and a cell phone. In the inset you'll see the embroidered icons – nice touch! What you can't see is that the water bottle pocket is actually sewn in such a way that the base is wider so the bottle fits properly. Little things make the bag a pleasure to receive, and as such, memorable. Ah, the power of promotional products!
More to come…
-klt