New pens featured in our pen catalog will make you say 'wow!'
First, these pens look really cool – they are available in new styles and colors.  Equally importantly, they are affordably priced.  Here are a few I think you'll like: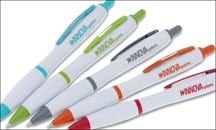 Customers love this pen!  So, we're always on the lookout for ways to update it and make it look even more phenomenal.
Bright colors are hot, so that's what you'll see here.
This pen is available in a White Barrel – that looks sharp when paired with Lime Green, Gray, Orange, Turquoise or Magenta trim colors.  (For those interested in both style and price, these pens start at just 85 cents each for a quantity of 250.)
New Spiral Notebook and Ballpoint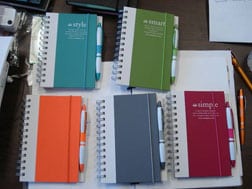 You're getting the inside scoop on this notebook and pen set.
Each notebook is paired a matching Curvy Pen with white barrel with bright accent trim.  The notebook and ballpoint set will be available later this summer.
Stay tuned.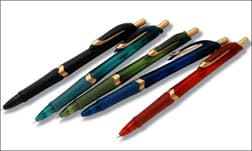 This new pen has a frosted finish, which gives it a luminescent quality.  Translucent blue green, red, teal and opaque black are paired with matte metallic goldtone trim, a 4imprint exclusive.
These color combos are really striking.  Your logo will pop.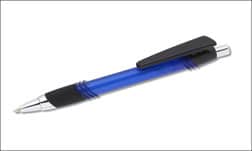 Workers who spend a lot of time out and about on job sites will love the handy spring-loaded clip on this pen.
It's available in translucent black, green, orange, blue and red.  Prices are just $1.19 each for 300 pens.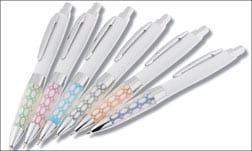 If you want a pen that will really stand out, check out this one.  The combination of the clear frosted barrel and the peekaboo hex design makes this pen a standout.  Prices start at just 65 cents for a quantity of 300.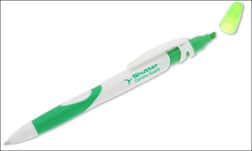 This pen does double duty with ease.
It pairs a retractable pen with a highlighter – a combination you don't often see together.
This is another 4imprint exclusive.
If you'd like to request a copy of our Pen Collection catalog, call 1-877-446-7746.  Or, see all of our pens by clicking here.
–Suzanne