Working with charities like this is one of the things I love about my job.
-Cheryl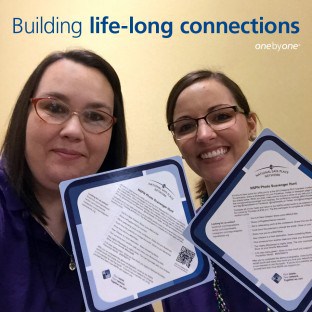 National Safe Place Network (NSPN) of Louisville, Ky. is dedicated to ensuring an effective system of response for youth in crisis. The nonprofit organization accomplishes this mission in a number of ways. Outreach and prevention services are provided to nearly one million young people each year through the organization's Safe Place program. Countless others find refuge, mental health support or other resources through the TXT 4 HELP program. NSPN also provides training and technical assistance services to any youth and family service organization, nationwide, through the membership and Runaway and Homeless Youth Training and Technical Assistance Center (RHYTTAC) programs.
NSPN received a one by one® grant from promotional products retailer 4imprint®. It used the grant to purchase hand fans for the annual National RHY Grantees Conference for runaway and homeless youth (RHY) service providers. The fans were imprinted with a scavenger hunt to promote engagement with the NSPN brand and among conference attendees. "Networking is a key component of what we do," said communications coordinator Elizabeth Smith Miller. "Our tagline, 'Together we can,' exemplifies the importance of working together to serve youth in crisis which allows us to accomplish so much more." The fans served more than one purpose. Not only did they add an element of fun, they promoted NSPN resources and provided a cool breeze on a hot day. "People really had a lot of fun with the fans and that was one of our goals. We also wanted to provide a takeaway—a networking tool attendees could use to build lasting connections, all while correlating their experience to NSPN," said communications coordinator Hillary Ladig. "We are so grateful for the opportunity 4imprint provides organizations such as ours."
To read more stories like this one, check out Cheryl's blog.  If you'd like to learn more about 4imprint's one by one program, visit our website at onebyone.4imprint.com.