Right now, I currently sort my recyclables using these clever recycling bins.
There is one for glass, one for cans and one for paper.
But, this month, that changes.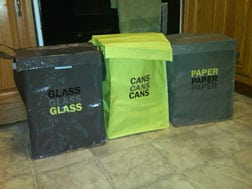 Oshkosh, where I live, is taking its recycling program to the next level. Soon, we'll be able to combine all of our recyclables into one bin.
The move to single-stream recycling – where all recyclables are combined together is pretty cool.  It usually encourages people to recycle more than when they have to separate everything.
But, I do have one tiny (ok, maybe tiny is not the right word) concern about all of this.  I might have to give up my garage. The recycling bins are really big.  I'm a little concerned that there might not be room for anything else in there – like my car, for example.
Fortunately, the bins come in two sizes.  I managed to order the smaller one – it measures 24" W x 32" L x 42" H but might now need to go buy a smaller car to fit the space.  I'll let you know.
If you're looking for something handy to use for taking your recyclables to the bin, you might like these Bright Recycling Bags, which help you keep paper, glass and cans separated.  Or, if this is something your customers might like, check out our version, the ModFX Recycling Tote Set.