With the US Open underway, I wonder if we'll see more matte gold on the courts, a la Roger Federer at Wimbledon.
If you haven't seen the photos, they're worth checking out.  His Nike®-sponsored gear was white with matte gold logo, detail and trim. (Photo credit: Nike)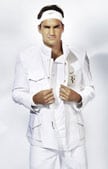 That it perfectly matched the championship trophy is probably not a coincidence.
In fact, the matte gold reminded me of our Zig Zag Pen, which sports a similar gold tone.  Of course, had we known, we could've created a white pen with matte gold trim.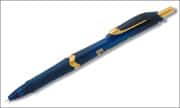 Bottom line: matte gold is hot.
Are you seeing it pop up in other unexpected places?  If so, I'd love to see photos.  Send me a link if you have one.
–Suzanne