Whether the goal is to thank volunteers or raise awareness, it's really fun to hear about some of the creative things charities do.
-Cheryl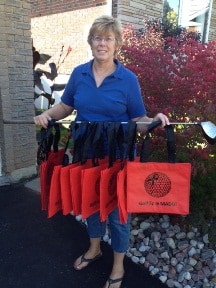 York Region's Mothers Against Drunk Driving (MADD) chapter spends countless hours in the community with one goal in mind—to stop impaired driving. Every day in Canada, there are four Canadians killed and 174 more injured as a result of impaired driving. This nonprofit organization seeks to create awareness of this crime and support those who are victims of it by offering support services. One such service is the MADD Canada's victims' weekend. This three-day event is devoted to supporting those who've suffered the loss of a loved one or injury due to impaired driving. The weekend consists of keynote speakers, an education session about the criminal justice process, counseling by trained victim services personnel, meditation and lots hugs and support. At the most recent event, 10 victims attended from York Region—all free of charge, which makes fundraising such an important part of MADD York Region's efforts.
MADD York Region recently held their first ever, annual fundraising golf tournament. The event was a huge success bringing in 82 golfers and immense support from both the York Regional Police and Ontario Provincial Police departments who helped with securing sponsorships, prizes and promotion for the outing. In fact, it was an officer at the York Regional Police department who arranged for MADD York Region to apply for and receive a one by one® grant from promotional products retailer 4imprint®. The grant was used to purchase logo'd bags to hold giveaways and sponsor handouts. "We couldn't believe it when we found out we had received this grant," said Kathy Mitchell, MADD York Region president. "We'd been trying to find ways to make this event a benefit … not a liability. To know we didn't have to spend money on these fantastic bags was a tremendous relief."
You can read more recipient stories on the one by one website. To apply for a one by one grant, visit onebyone.4imprint.com and click the Application tab.