On a recent trip home to London, I saw an ad that grabbed my attention.
The ad promotes the upcoming London 2012® Olympic Games® and encourages Londoners to purchase promotional products to show their pride.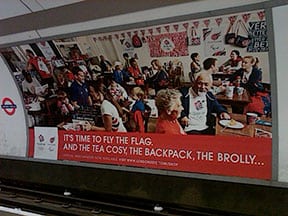 You can see why I got an adrenaline rush just seeing it. (Just in case you are wondering, a brolly is an umbrella.)
What a great campaign! It promotes London and promotional products, two things very close to my heart. Needless to say, I'm really excited about the Games taking place in my hometown.
-Suzanne
PS – I'm sharing this info as a fan, not because we here at 4imprint have any connection to the Games. If you want to help show your excitement, here's the link to the official online store: https://shop.london2012.com