Whenever I'm in London, I try to stop by a favourite clothing and housewares shoppe of mine: Liberty of London. The store itself is an absolutely beautiful experience, with authentic hardwood floors and timber framing that set the stage for the brand's easily identifiable, colourful fabric patterns and on-trend merchandise selection.
Now, I can get my Liberty of London fix here in the states, with a selection of products they've developed for Target® stores. One of the most interesting products is its Recycled Billboard Bag.
These reusable tote bags are made from nine recycled Target + Liberty of London billboards. Somehow, they are able to transform advertising into art with these fashionable totes. I spotted the billboards recently while traveling in New York.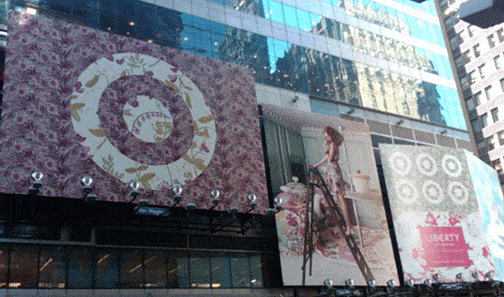 This fall, it'll have a new life as a tote bag.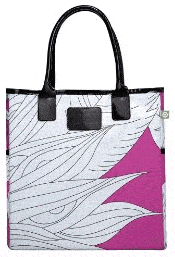 The totes were available for pre-order, but have now sold out.  They'll be shipped in September. For now though, you'll simply have to join me in ogling the current sneak peeks at Target.com.
– Suzanne
P.S. If you're interested in purchasing reusable, colorful, vinyl totes as customized promotional products for your organization, check out our selection online.