Whether the goal is to thank donors or raise awareness, it's really fun to hear about some of the creative things charities do.
-Cheryl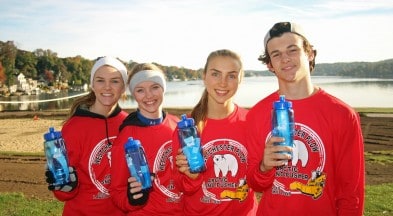 Launched in 2012, the Lake Hopatcong Foundation was founded to preserve and improve New Jersey's largest lake. The nine-mile Lake Hopatcong spans four towns in two counties and is a mecca for recreational activities, including boating, kayaking and hiking on its surrounding trails. The foundation aims to improve and protect the lake through education and environmental initiatives that include invasive species prevention and lake clean-ups. It accomplishes these worthwhile projects and initiatives with the help of its more than 1,000 supporters, 400 members and contributions through several fundraising events. One such event is the Lake Hopatcong Foundation Lake Loop. During this event, participants partake in one or several challenges: a scenic 20-, 40- or 62-mile bike ride; a 1-mile or 5K adventure run/walk; or a 1- or 2.5-mile kayak paddle around the lake. October 2015 marked the foundation's third-annual Lake Loop challenge, which attracted 280 participants and raised $50,000.
The Lake Hopatcong Foundation was the recipient of a one by one® from promotional products retailer 4imprint®. The grant funded sport bottles that were distributed at the Lake Loop event. "We are very lucky to have this beautiful lake right here in New Jersey," said development director Lauren Rossi. "It is so nice for a company like 4imprint, not located directly on the lake, to support our foundation and our lake family. We absolutely appreciate the support."
You can read more recipient stories on the one by one website. To apply for a one by one grant, visit onebyone.4imprint.com and click the Application tab.