Here's a story worth reading.
-Cheryl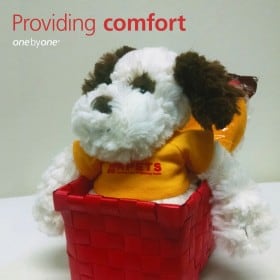 The gentle touch of a therapy pet can brighten even the darkest of days. Keystone Pet Enhanced Therapy Services (KPETS) understands this all too well. The nonprofit organization's registered therapy teams provide comfort to individuals of all ages and from all walks of life. From the physically challenged to those suffering mental and emotional difficulties, the healing effects of a nuzzle or snuggle can go a long way. KPETS volunteers spread joy to those in retirement facilities, hospitals, hospice, schools, libraries and more. The human/pet teams consist of more than 350 volunteers, 400 dogs, several cats, mini horses and even a Juliana pig. Together, the teams make more than 8,000 visits each year.
KPETS was the recipient of a one by one® from promotional products retailer 4imprint®. It used the grant to purchase adorable plush dogs donned in KPETS logo'd t-shirts. The dogs, along with candies and other goodies, were placed in a basket and used as centerpieces, and later, raffle items for the KPETS annual fundraising dinner. "We were just elated to receive this grant," said KPETS' Karen Gerth. "It was the answer to our prayers!"
The dinner was a huge success—it brought in more than 130 volunteers and community supporters and close to $13,000. It was KPETS' best fundraiser, ever! Several therapy dogs attended the event, as well. And the emcee, a local TV personality, surprised everyone by bringing her own unofficial therapy dog. A two-time cancer survivor, she knew firsthand the positive impact a pet can have on healing.
To read more stories like this one, check out Cheryl's blog.  If you'd like to learn more about 4imprint's one by one program, visit our website at onebyone.4imprint.com.