It's humbling to hear about some of the work charitable organizations do to make the world a little brighter.
-Cheryl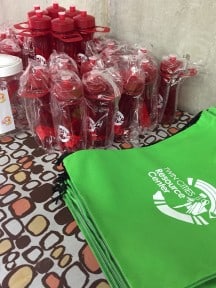 The Twin Cities Kids In Need Resource Center is 1 of 37 Kids In Need affiliates across the United States. Its mission is to provide needy children with school supplies. The nonprofit organization serves 132 area public, private and charter schools, all which have 70 percent or more students participating in federal reduced or free lunch programs. The premise behind this program is that if these families cannot afford lunch they may not afford school supplies. Approximately 5,000 teachers and 50,000 students benefit from the Kids In Need Foundation. Teachers receive a biannual invite to choose supplies for their classroom, as well as backpacks, pencils, arts and crafts supplies, and more for their students.
Kids In Need Foundation was the recipient of a one by one® from promotional products retailer 4imprint®. It used the grant to purchase logo'd drawstring bags and sports bottles. The gifts were provided to volunteers, site council members and local dignitaries as a thank you for serving with the Kids In Need Foundation. "We were so excited to receive this grant," said Lauren Smith, Kids In Need Foundation communications manager. "We've never actually had much to give to volunteers and were happy to be able to reward them with these gifts."
You can read more recipient stories on the one by one website. To apply for a one by one grant, visit onebyone.4imprint.com and click the Application tab.