While traveling, this packaging caught my eye.  The design for over-the-counter medicine (acetaminophen, ibuprofen, bandages, etc.) is a signature style for the brand help®.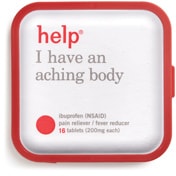 Both the packaging style and design are eye-catching.  The text – I have a headache. I have a blister. I've cut myself. – is unusually customer-focused.  And, complementing it all is a bright, colorful shape demonstrating what's inside.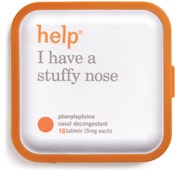 Perhaps the biggest surprise is the way the company sets itself apart, encouraging consumers to take less™.  That package design supports that message.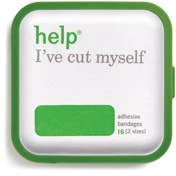 This packaging would stand out on its own.  But, it is particularly noteworthy because they are so different from competing products.
They're also a great example of how a bright colors, imprinted on a white shape can be really cool.  And, that's an idea you could apply to promotional products.
-Suzanne
PS – Here's a blog post about the packaging design: https://mocoloco.com/archives/026188.php