The quintessentially British 'Keep Calm and Carry On' phrase seems to be popping up everywhere: posters, plaques, home décor, tea tins, greeting cards and more.
The slogan has also attracted some variations, like 4imprint UK's tongue-in-cheek 'Keep Calm and Carry On … Shopping' promotional totes and Keep Calm Drink Tea mugs.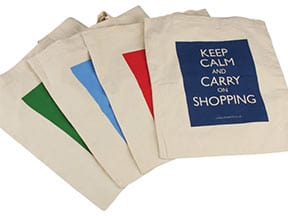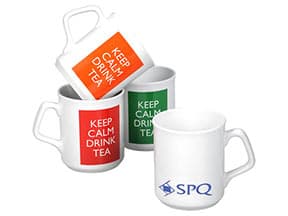 The fact you can append it with a clever ending is just one reason it's so popular. The heritage theme is also appealing because it is so clearly of a different era but and yet timeless in its message.
Thames & Hudson has unearthed more of these vintage gems in a new book called Fit Men Wanted. The volume draws its clever title from the 'Every Fit Man Wanted' recruitment poster. Among the other vintage posters highlighted in the book:
'Beer – A Necessity to the Strength of Britain'
'Victory is in the Kitchen'
'Women Versus the Submarine'
The book draws its material from The Imperial War Museums' repository of more than 30,000 posters developed during the first and second world wars. Now, you can browse some of these and learn the stories behind them with the Great British Posters from the Second World War, Volume 1 iPhone® or iPad® app, from The Imperial War Museums.
These posters are popular here in the US, as well. (Rosie the Riveter may well be the best-known image.) Design for Victory: World War II Posters on the American Home Front showcases 150 World War II-era posters from the US Office of War Information that called on Americans to step up and do their part at home, using colorful and includes classic slogans like:
'Remember Pearl Harbor – purl harder!'
'When You Ride Alone You Ride with Hitler'
'This is American … Keep It Free'
Which one is your favorite?
– Suzanne
PS – Of course, if you'd like to adapt the 'Keep Calm and Carry On' message on your promotional products, we will happily create something for you.