Fighting cancer in the great outdoors—one kayak at a time.
At 25, Mark Starkey had an idea. He imagined bringing together two of his passions and building a not-for-profit fund-raising event around kayaking, with proceeds benefiting cancer research and patient support. Starkey's grandmother, Salena, was fighting the vicious disease. For him, Kayak for a CureTM represented a chance to both support the cause and his grandmother.
In 2006, Kayak for a Cure was born. The organization's first charitable kayaking event brought together 25 paddlers and raised $1,125 for the cause. Over the last nine years, Kayak for a Cure has grown to include events in the United States and Canada, spanning North America. Kayak for a Cure participants from North Carolina to the Northwest Territories have raised more than $250,000 for both the American Cancer Society® and Canadian Cancer Society.
Hope Floats
Starkey had always loved kayaking. Before moving to Vancouver, he says he and friends used to drive from Youngstown to nearby waterways and spend the day on the water. Vancouver provided the perfect backdrop for a kayak-based fund-raising activity. With Cascade Mountains in the distance, the Vancouver route from Jericho Beach, across English Bay, to Third Beach, is both serene and beautiful.
"Things happen when you are on the water," said Starkey, founder, Kayak for a Cure. "There is camaraderie that exists when you are with a group of people on the water for ocean kayaking. You have the breadth and mind space to share stories about who you are paddling for. It's more emotional when you have other people around you."
That camaraderie is just one of the reasons Kayak for a Cure participants come back to paddle year after year. The other is the organization's focus on creating an experience participants will share stories about year after year. From the moment a participant signs up, volunteers hope to make lasting impressions.
Building a Brand in International Waters
The organization focused heavily in those early years on building a brand capable of crossing international waters. By thoughtfully designing the brand and messaging and using a strong website and digital marketing strategy to deliver it, Kayak for a Cure quickly became a recognizable event.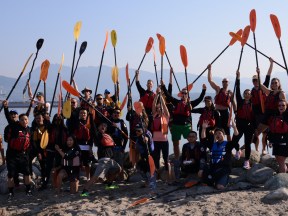 "What makes Kayak for a Cure so recognizable is the simplicity of its logo," said Connie Donovan, Art Director, 4imprint. "You can't help but notice it. The way it is consistently used—a white logo on brightly colored t-shirts and other giveaways – made even a new event feel like it had a long history."
The point is not lost on Starkey, who laughs as he recalls a woman at the gym commenting on his Kayak for a Cure t-shirt after the first event. "She said, 'my sister's been doing that event for years.' I didn't have the heart to tell her we'd just gotten the t-shirts a month earlier. People trust the brand."
To Starkey, that story is just one example of how effective promotional products have been in helping propel Kayak for a Cure to the next level. Through a partnership with 4imprint, Kayak for a Cure provides event participants with commemorative gear that continues to build buzz long after the paddles are put away.
"People take you more seriously when you give them a gift that has your brand on it," Starkey said. "Our strategic advantage is that we have branded goods on the hands, backs and chests of participants in the cities we paddle in. That allows our paddlers to tell stories about what they experience through our event throughout the year." Those brand ambassadors help spread the word to others in the kayaking community.
Be Fearless
Though Starkey's grandmother, Salena, lost her battle with breast cancer, lung cancer and leukemia in 2010, she remains the model for volunteerism within the organization. Each year, the organization honors its MVP volunteer with the 2825 Award, named after Salena Starkey's house number. The award recognizes traits Starkey associates with his late grandmother: selflessness, courage and determination.
Those traits, he says, are key to creating and building a successful fund-raising event. "Be courageous. Be fearless with your dream, your idea, your thought," Starkey said. "Anything we want to get after and really attack in our lives, you have to be fearless and you have to be courageous and know that you are worthy of the dream that you've got."
The other key, he says, is keeping your feet on the ground and recognizing you don't have to go it alone. Developing strategic partnerships is key.
Starkey's own dream is to see Kayak for a Cure expand to all 13 Canadian provinces and all 50 US states. He envisions a day when funds raised contribute to not only finding a cure for cancer and providing support for patients, but also to disease prevention.
"The disease causes an incredible headache and heartache with our loved ones," Starkey said. "We want to find a solution."
As Kayak for a Cure enters its 10th year, that's a courageous dream to get after. And, for Starkey, it's a dream that's worth the chase.