If you have a lunch-time promotion on your mind, it's Tiffin time.
The latest addition to our collection of colorful, reusable lunch bags is the Tiffin Insulated Lunch Tote . The Tiffin is fun and spacious. It has a handy pocket on the front. And, its name has a fun story behind it.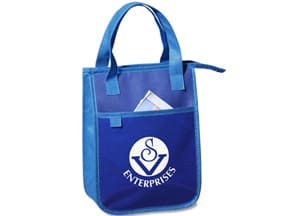 The word "tiffin" entered the English language in the early nineteenth century India. Apparently, we Brits had a habit of eating dinner mid-afternoon – but that habit was giving way under the influence of the Indian climate to a main meal taken later in the day, requiring a lighter midday meal and a new name for it – Tiffin.
The English in India borrowed from the word "tiffing", an old English dialect or slang word for taking a little drink or sip.
Today the word Tiffin is still common. It's still used to refer to the lunch time meal but also for those that deliver it – "tiffin-wallahs" and also in the restaurant names of those that sell it.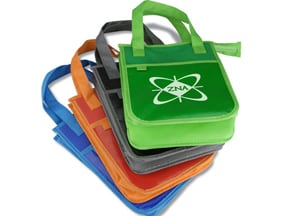 We don't all have the luxury of a hand-delivered homemade hot lunch, but with the Tiffin Tote your meal can still arrive to the lunch room in style.
Anyone else hungry?
-Suzanne