We've just introduced a new cup2go.
We've worked closely with our supplier so we could bring this to you a couple of months before its scheduled release date – so you can get your hands on these cool new promotional products a bit earlier.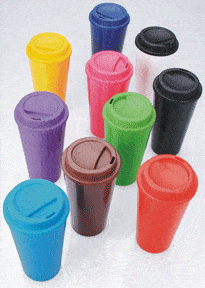 The 16-ounce reusable coffee mug is eye-catching.  It's a paper cup look-a-like made of polypropylene that will be available in 10 bright colors.  (It's BPA-free and recyclable with #5 plastics.)
What's quite good about these travel mugs is the screw-on lid.  Unlike others with rubber lids that bend on, the lid on this travel mug is threaded and actually twists on.  That adds a bit more functionality.
-Suzanne