If you're one of those people who remembers capitals of countries like others spout out sports statistics, you'll love the name of this new tumbler.
It's called the Malmo Travel Mug.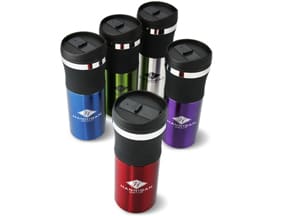 This 4imprint exclusive is made of stainless steel and comes with a threaded lid and a rubber grip.  The modern design is an updated classic – meaning stylish without being mega-trendy.
It's a cool new promotional product – much like the Swedish capital that inspired the mug's name.
-Suzanne