If you've looked around at the promotional products in a conference or meeting room lately, you've probably noticed the growing popularity of notebooks.  They are far more practical and lightweight for the recipient and present great value for the money for the event sponsor. The one downside is that they only last as long as the number of pages in the notebook and there were very few nicer options suitable to gift giving and awards.
Here's a sneak preview of a great-looking new journal designed by our merchandising team that solves those two problems: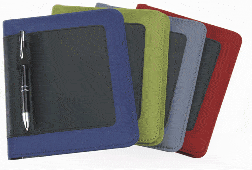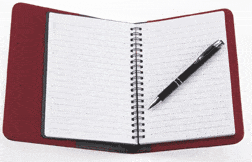 The Color Frame Journal is a 4imprint exclusive in four fresh colors with black accents. It has a fabric cover similar to the quality you'd expect from a business portfolio. Inside it differs with a notebook rather than the traditional pad of paper. The notebook section is completely replaceable so the recipient can continue to use the cover and be reminded of your company for years to come. No journal is complete without a pen so we added an elastic pen holder into the design and our Zenith pen to the front.
It's perfect for conferences, meetings and many other uses.
-Suzanne