Red. Black. Blue. Those used to be the colors of ink available in promotional pens.
If your organization's brand color was anything other than those three, you could choose a pen with a barrel aligned with your brand, but not the ink.
PaperMate's InkJoy pens change that.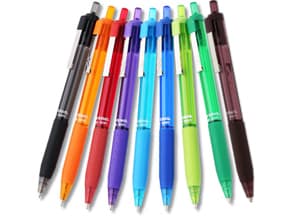 InkJoy pens come in a variety of colors, with ink to match. Now, whether your brand color is orange, brown, lime green, grass green or turquoise or a more standard ink color like red, blue or black, you can get both the pen and ink to match your brand.
And, color isn't the only feature worth writing about. InkJoy pens start evenly and write smoothly – the kind of promotional products your customers will want to get their hands on. In fact, the InkJoy pen's branded ink colors will make these popular with your team, too. And, that might make it difficult to keep these pens on your desk.
-Suzanne