There are so many worthy causes that need help. This one is particularly touching.
-Cheryl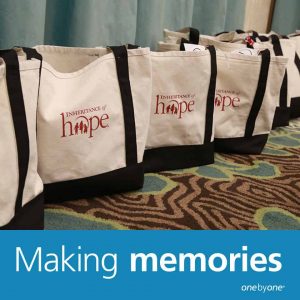 Kristen and Deric Milligan founded Inheritance of Hope in 2007. The couple struggled to find resources to help their three children cope after Kristen's terminal liver cancer diagnosis. From this struggle, Inheritance of Hope was born in an effort to help families with young children navigate the difficulties of having a parent with a terminal illness. The nonprofit organization accomplishes its mission in a number of ways—it provides families with resources and literature, counseling and even college scholarships. But its signature offering is its Legacy Retreat® program where terminally ill parents and their families are taken on a four-day trip. During this time, the families' needs are taken care of so they can relax, spend quality time together and make memories without the worry of medical bills and doctor appointments. Along with trips to places like Disney World® and New York City, counseling is also provided to help the children cope with and prepare for what lies ahead. Inheritance of Hope even provides a date night where kids get a night out so mom and dad can spend some quality time together. During this time, the diagnosed parent is able to record a Legacy Video® to share with their children. The entire trip is documented through photos and video. This year, Inheritance of Hope served its 300thfamily on a Legacy Retreat®. 

Inheritance of Hope was the recipient of a one by one® from promotional products retailer 4imprint®. It used the grant to purchase canvas bags that are filled with welcome gifts for the families. "We were so excited to be a recipient of the one by one program," said Kira Mann, Development Director. "We like to surprise our families from the minute they arrive at the hotel until the closing service, and the bags made a really nice welcome surprise." Local churches, businesses and even sports teams donate items for the welcome gifts. "We work really hard to serve families well and it's great to have organizations like 4imprint come along side to help us," said Inheritance of Hope co-founder and CEO Deric Milligan.
Read more one by one recipient stories on Cheryl's blog. To apply for a one by one grant, visit our website at onebyone.4imprint.com and click the Application tab.