You never know how an organization will make a difference. Here's one inspiring story.
-Cheryl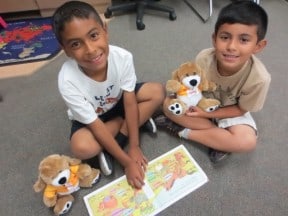 How Dogs Help Kids Read and Succeed in the Classroom is a program offered in partnership with the California nonprofit organization, Loving All Animals. Founded by former teacher and animal assisted literacy expert, Dr. Lori Friesen, this program helps second graders become stronger, more confident readers, while teaching compassion for animals. How Dogs Help Kids, a one by one® recipient, purchased stuffed dogs from promotional products retailer 4imprint®. The dogs are given to students at the beginning of the 10-week program, during which children are responsible for naming and fostering the dogs at school. Upon program completion, children and teachers celebrate reading successes and hold an adoption ceremony for the stuffed dogs that get a new home with the children. Between the stuffed dogs, "BoneWork" challenges and golden bone rewards, the program provides a doggone good time for all involved!
How Dogs Help Kids Read and Succeed in the Classroom is still in its tender years—in only its second school year, it has grown from supporting one school and 120 students to five schools and 520 students. "It is my goal, hope and wish to be in every school in California," said Dr. Lori. "This program and the dogs are really helping children in their reading. We were overjoyed to receive this gift—anything we can do to get this program into hands of kids is an amazing thing."
You can read more recipient stories on the one by one website. To apply for a one by one grant, visit onebyone.4imprint.com and click the Application tab.