Working with charities like this is one of the things I love about my job.
-Cheryl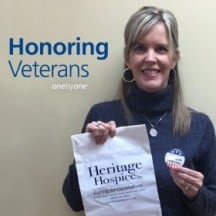 Heritage Hospice, Inc. in Danville, Ky., provides care to those facing life-limiting illness. In addition to offering hospice services and family support, the organization goes into the community to educate and inform the public on the nonprofit organization's services and resources. One way it accomplishes this is through its annual Veterans Appreciation Day event. Held on Veterans Day, it is one of the largest events in the area. In 2015, more than 1,200 veterans and their guests were honored with a home cooked meal, community support and countless door prizes. "We hold this event to serve those who have served us," said Sharon Martin, community and provider liaison for Heritage Hospice.
Heritage Hospice was the recipient of a one by one® from promotional products retailer 4imprint®. It used the grant to purchase buttons and drawstring bags to hold door prizes and educational literature. "Being able to provide each and every veteran with a small gift was a huge for us," said Martin. We received so many compliments this year—it was our best event ever and without 4imprint, it wouldn't have been as nice and successful."
To read more stories like this one, check out Cheryl's blog.  If you'd like to learn more about 4imprint's one by one program, visit our website at onebyone.4imprint.com.