You never know how an organization will make a difference. Here's one inspiring story.  
-Cheryl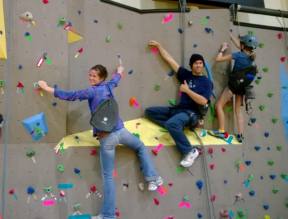 A pathway to healthy living
Four years ago, the gymnasium on the campus of Sheldon Jackson campus was boarded up and some thought it was slated for demolition. But residents in the small town of Sitka, Alaska believed it could be transformed into an indoor recreational facility to serve the community. With only one month to renovate, thanks to many volunteers, the gym was reopened as the Hames Center—a nonprofit, indoor recreational facility with 30,000 square feet. Today, the Hames Center offers a wide range of activities including pickle ball, soccer, volleyball, badminton, ping pong and basketball, to name a few. Thirty seven classes are offered every week, and membership has grown to 700 in a town with just 8,000 residents. Last year, it even added a state of the art climbing wall that is used by Alaskans across the state. "It's really transformed our community," said Cindy Edwards, director of the Hames Center. "Our town is becoming a healthier, more active place because of this facility."
One of the programs offered by the Hames Center is its Healthy Directions program. It is an outreach program designed to attract people that normally don't come to the gym and encourage them to adopt a healthier lifestyle. At a recent kick-off event, participants came to the facility to learn more about the services and activities available to help them live a healthier life. "I had someone tell me this program gave them their life back, and that's exactly what we hope to accomplish," said Edwards.
The Healthy Directions program used their 4imprint® one by one® grant for new bags that were distributed during their kickoff meeting. Not only were the bags a huge hit, but they were made out of recycled plastic bottles and were environmentally friendly, which is important to the Alaskan community. "The bags were just perfect," said Edwards. "We have limited funding for promotional products, so this grant really helped our members feel special—we believe that translates to their overall approach to health." As an added bonus, the fitness logs and membership cards fit perfectly in the front pockets of the bag. "We were over the top excited to receive this grant—it's a sign of success and shows that we continue to move forward," said Edwards.
You can read more recipient stories on the one by one website. To apply for a one by one grant, visit onebyone.4imprint.com and click the Application tab.