Today's post is actually by one of our associates, John Van Den Brandt. John asked if he could use my blog space to talk a bit about a project he's pretty passionate about!
-klt
I'm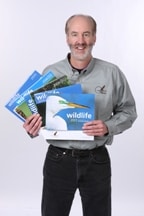 John Van Den Brandt. By day, I'm a Senior National Account Manager at 4imprint. Any other time, I'm a wildlife photographer, spending long hours in the field waiting to capture that  one perfect,  heart-stopping moment of wildlife action.
When a typical employer learns of your passion for anything outside your job, the likely response is 'Fine, just don't let it interfere with your work'. But 4imprint is not a typical  employer. Here, the thinking was 'How can we utilize John's talent to the benefit of our  customers?' That's how the 4imprint Exclusive Wildlife Calendar was born. (Can you begin to  see why 4imprint just made the list of America's Best Places to Work for the third straight  year?)
The calendar's been a hit – in addition to the wildlife images, customers seem to like the brief "stories" that I write about how I captured each month's image. In fact, at the beginning of each month I often receive e mails from customers throughout the country complimenting me on that month's image, asking questions or encouraging my work. One customer said that we've saved him a lot of money on story books because his child will only go to sleep if he can first page through our calendar and name all the wildlife. He won't accept any substitute!
I hope you won't accept any substitute either. If you're looking for a unique calendar that uses real wildlife images (not game farm models), a gift that will keep your logo front and center all year long, check out our wildlife calendar. The 2011 edition is our fifth and I believe our best ever.
Thanks to 4imprint for supporting my dream and thanks to you, our customers for making it come true.
Click here to view all the images in the 2011 calendar.