We hear a lot about marketing to women.  For many organizations, they are the decision-makers in a purchase.
But, what if that's not true for your audience?  Here's a list of man toys (promotional products in a range of prices) that will help your organization stay top-of-mind with men.
4 Great Man Toys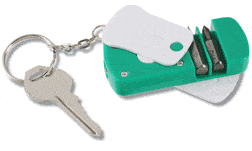 1.    Swivel Toolkit with LED Light
If the guys in your target audience like the James Bond gadgets that do things you wouldn't expect, this key ring is for them.  One end features an LED light.  Slide open the key ring cover and guys will find Philips and flat-head screwdriver bits nestled inside.  The bits fit into a screw recess on the opposite end, making this a handy tool to keep nearby.  With prices from $0.95 to $1.59 each, this gadget makes a great trade show giveaway.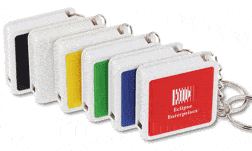 2.    Primary Tape Measure
This handy little measuring tape has both centimeter and inch measurements and extends to a full meter measurement.  The bold colors make it easy to spot in a desk, utility drawer or on a basement work bench.  With prices ranging from $0.45 to $ $0.79, this is a very affordable promotional item.  If you're looking for a more heavy-duty tape measure, check out the 25' Gripper Tape Measure or the Contractor Tape Measure – 25'.  Or, for a tape measure that does more, try the 3-in-1 Voice Recorder/Tape Measure – 16'.  Your customers will love that they never lose track of measurements again!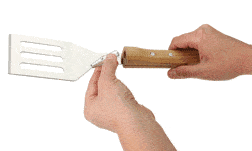 3.    Grill Master Lighted Bamboo Spatula
This is a great grill gadget.  The bamboo-handled, stainless steel spatula comes with its own LED light – which makes it perfect for those nights you're grilling dinner after dark.  Like the grilling idea, but looking for something more? Try the Grill Master Caddy Set, which includes tongs, a spatula and a silicone basting brush or the Grill Master BBQ Apron, which comes with a bottle opener, oven mitt and towel.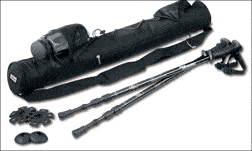 4.    Outdoor Trekking Set
For outdoors-lovers, this Outdoor Trekking Set is a great incentive or thank you gift.  It includes high-quality telescopic, anti-shock trekking poles and a polycarbonate water bottle.  For the gadget lovers, there is the High Sierra Digital Compass that comes in a travel sport pouch and box – for corporate gift-giving.
If your audience is mixed, you're in luck.  Women appreciate these great gifts, too.
-Suzanne