Hard to find many things more gratifying that seeing a something – or someone –  you believe in create something special. In this case I've got a story of a something and a someone!
A few years back Mark Starkey approached us about sponsoring his new event "Kayak for a Cure" (KFAC) up in Vancouver. He was passionate, driven and had vision – you could actually feel it over the phone. We offered him a little bit of help that first year by way of a grant for promotional products – and the event was a success.
Fast forward to 2010, the 5th anniversary of the Vancouver event held this past weekend and it was spectacular by all accounts.  KFAC is raising more money than ever and is now an event in nine cities in Canada and the US – with more to come I'm sure.
Thanks to Mark and the KFAC Crew for reminding us all again that anyone can make a difference  – you just have to decide you want to.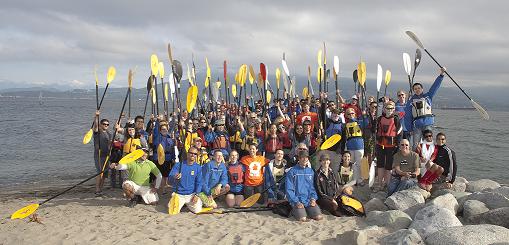 P.S. If you're part of a charitable organization making a difference where you live, check out our 'one by one' program. It's a way for you to get a promotional items grant that you can put to work creating something special for people in need!