I saw this on the Levenger website and just had to share.  It's one of those products that made me say, "why didn't I think of this?"  It's called the Grid-It Organizer.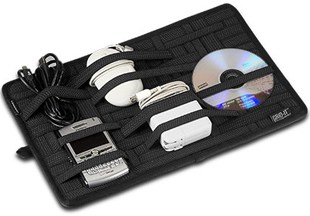 It features a handy criss-cross of elastic bands, arranged in a grid system.  The bands provide almost endless ways to arrange and carry electronic devices.
We'll be offering some new products that help you manage electronics later this fall.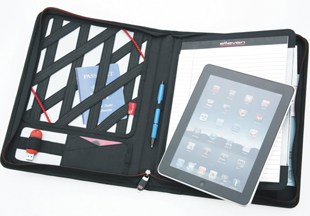 The products will be part of a new series called elleven.  The portfolio shown above is just one of the products.  It includes a section stitched into the front that includes elastic bands in a latticework pattern – perfect for holding receipts, paper, USBs and even a hand-held tablet.  The range extends into technology storage and bags with similar features.
Give these to your team or your customers and they'll start to feel really organized!
-Suzanne