It's humbling to hear about some of the work charitable organizations do to make the world a better place.
-Cheryl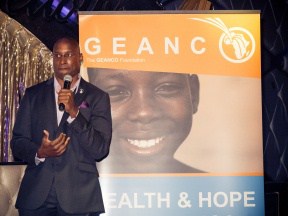 The nonprofit organization GEANCO was born from the vision of one man—Dr. Godwin Onyema. At a very young age, this young Nigerian discovered his love for medicine. Inspired by a British missionary who took him under her wing and taught him the skills of this trade, he pledged that one day he'd carry on her mission to help the suffering people of Nigeria. Today, the nonprofit organization GEANCO (which is a compilation of the initials of the Onyema family) exists with the sole purpose of saving and transforming lives in Dr. Godwin's homeland—Nigeria.
GEANCO is in the process of preparing for its fourth medical mission. Since 2005, these missions have been responsible for hundreds of anemia screenings, countless broken bone repairs and 75 hip and knee replacements. GEANCO also trains local doctors and nurses, it has helped upgrade two Nigerian hospitals and it plans to establish Nigeria's first world-class hospital in late 2016, early 2017. Additionally, GEANCO brings with it donated school supplies, books and clothing to benefit hundreds of Nigerian schools.
GEANCO was the recipient of a one by one® from promotional products retailer 4imprint®. It used this grant to purchase a retractable banner imprinted with the newly upgraded GEANCO logo. "We fundraise at events and galas all over the United States. This banner is the first thing people see and it offers a quick idea of what we're all about," said GEANCO Co-founder and Chief Operating Officer Afam Onyema. "This banner … this gift—it symbolizes the good work of people helping people a half a world away." Afam Onyema, the second son of Dr. Godwin Onyema, joined the foundation full-time in 2007 in an effort to help his father achieve his lifelong dream.
You can read more recipient stories on the one by one website. To apply for a one by one grant, visit onebyone.4imprint.com and click the Application tab.