There are so many worthy causes that need help. This one is particularly touching.
-Cheryl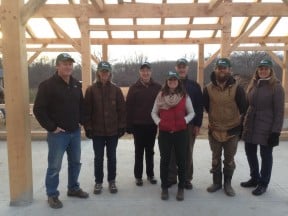 Gaining Ground, a nonprofit farm based in Concord, Mass., grows food for local hunger relief. With help from 2,000 community volunteers, 100 percent of the farm's fresh, organic and highly nutritious produce is donated to area emergency food programs or distributed through free farmers' markets. Approximately 650 households are fed each week during the harvest season. In addition to growing vegetables, fruits and herbs, and producing maple syrup, Gaining Ground also grows and donates flowers. "We try to feed the soul as well as the person," said Gaining Ground's Kristin Moore. 
In an effort to make the most of its land and increase harvest efficiency, Gaining Ground built a barn to house its tractor, farm tools and a cooler for cold food storage. Gaining Ground held a barn raising, and more than 200 volunteers helped in the build. The organization was the recipient of a one by one® from promotional products retailer 4imprint®. The nonprofit organization used the grant to purchase logo'd hats to thank volunteers. "The crew that led the barn raising was amazing," Moore said. "We wanted to thank everyone who came out to lift the posts and beams with something tangible that associates them with Gaining Ground. We were delighted to have a way to do so!"
You can read more recipient stories on the one by one website. To apply for a one by one grant, visit onebyone.4imprint.com and click the Application tab.