My last post looked at the powerful impact shape has on our perceived value of a product. Previous posts from the show focused on the importance of presentation and packaging.
This time let's look at something that's a little of both – size. I don't necessarily mean just raw, physical size. I'd like to stretch the thought to include things like kits, meaning kits with a few, smaller-sized items vs. kits that might have the same items but in different sizes or configurations.
Here's a simple example: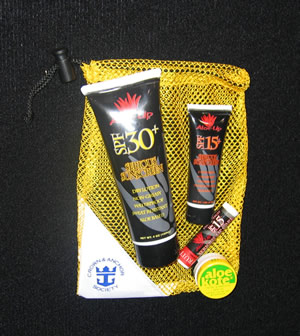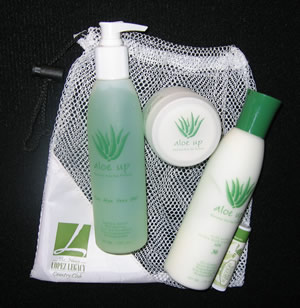 These packages include sun block, lip balm, etc. Notice the differences? Obviously one is geared more for the 'beach scene' and the other is geared at a broader, perhaps more feminine audience (as discussed in the packaging blog). Essentially these packages contain the same type of product, but in different sizes and packaging. Why does this matter? How can you leverage the differences when using these kits as a business giveaway?
Now look at this grouping: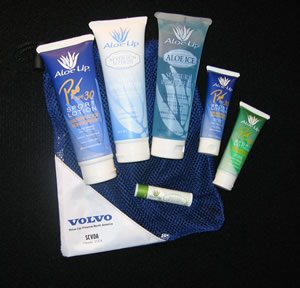 It includes additional items and the size of a few of them is larger. Does that change your perception of the product?
A couple of things to think about here. First, it's important to make sure the size/scope of the product is appropriate relative to the size/scope of the promotion or event.  The larger kit would be great as a thank you to a VIP (customer, top sale rep, etc.), particularly if it was something they received as part of an 'off site' meeting you hold in a sunny locale. Imagine you're that VIP (at the sunny resort) and you found that kit waiting in your hotel room when you checked in (with a nice handwritten welcome note!). What would your impression be of the company who put that together for you?
The smaller pack is the perfect if you need to reach more people (it costs less) and is more suited for a giveaway at the company picnic (if there's beach), as a giveaway at a beach volleyball tournament you sponsor or as part of a pre-registration 'goodie bag' at that off site sunny locale deal I mentioned (I seem to have sunny off site meetings on my mind today – I think that's because the temp is about 2F back in Oshkosh today!).
The permutations here are endless, but the point is that by being creative with product 'configuration' you can have a big impact and still meet your budget requirements. And every now and then it pays to spend a bit more than you planned because with thoughtful selection the incremental increase in cost is dwarfed by the huge lift in response.
The show is coming to a close. I'll get another post up here over the weekend.
-klt