As the interest in adult coloring books (and coloring therapy) continues to grow, promotional adult coloring books are making it possible for brands to get in on the craze!
This used to be a pastime reserved mostly for children. Now, opening a page in a coloring book has quickly become a go-to hobby for adults. According to a Washington Post® article, 12 million adult coloring books were sold in 2015, up from just one million the previous year. Adult coloring books are even taking their turns on best-seller lists.
How adult coloring books promote stress relief
If the idea of a coloring book takes you back to primary school, you'll find adult coloring books are in an entirely different class. Adult coloring books feature intricate designs of animals, flowers, geometric shapes or patterns. Coloring with crayons, colored pencils or markers, provides adults with stress relief.
Promotional adult coloring books are perfect for relaxation brands
To help customers (or your team) find their happy, add promotional adult coloring books to your next campaign. Whether you are planning a team-building event or an advertising campaign, promotional coloring books make a great addition. Or, if your organization has a waiting room or areas where people like to unwind, put a few copies out on a table. Personalized coloring books (with your logo) make great additions to counseling offices, hospital waiting rooms, senior centers, coffee shops and more!
Our Stress Relieving Adult Coloring Book comes in three designs: patterns, ocean and nature.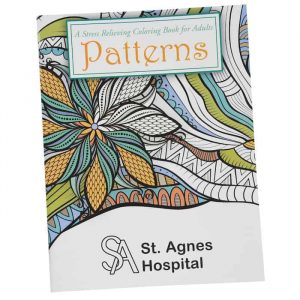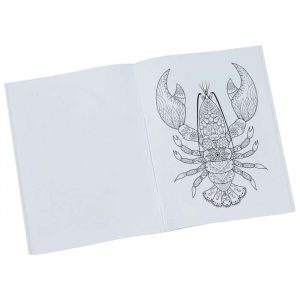 Shown: Stress Relieving Adult Coloring Book – Patterns
One of the biggest differences you'll find in adult coloring books is the level of detail in the illustrations.  For example, in the ocean-themed book above, you'll see the lobster's body contains intricate detail that will focus recipients and melt away stress.
If you're looking for trendy business gifts, promotional coloring books can be purchased as a package with pencils. The pairing lets recipients start coloring right away.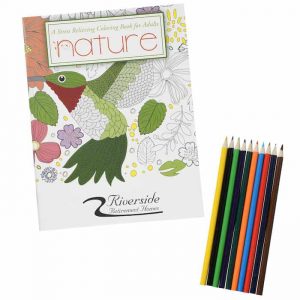 Shown: Stress Relieving Adult Coloring Book – Nature
Promotional coloring books for team-building events
One of the best things about the popularity of adult coloring books is that it works equally well as a solitary activity or a group event. Encourage recipients to plan team-based coloring events to spread the stress-relieving qualities across an entire department. And, when the party wraps up, team members can showcase their works of art in the office. All of the books have perforated pages so that artists can frame their work. (The office refrigerator may even start to sport new artwork!)
Consider putting your brand on these fun personalized coloring books. It's a giveaways that your customers or team will pick up again and again. And, what could be better than having them think of you in a relaxed state of mind?
–Suzanne